//
MOTORIZED OR FIXED RACKS
Durable racks with or without the use of a ladder.

// ABOVE THE COMPETITION
Store with confidence with industry leading weight capacity.
// OUT OF SIGHT, OUT OF MIND
Store rarely used items up high and out of the way.
CONSULTATION
IT'S TIME TO GET ORGANIZED.
CONSULTATION
IT'S TIME TO GET ORGANIZED.


STRONG OVERHEAD STORAGE IN LONG ISLAND
Gorgeous Garage's storage overhead racks are the most versatile ceiling racks in Long Island. Cabinets go hand in hand with the Monkey Bars shelving system to organize whatever life throws your way.
//
PROVIDES MORE SPACE
Garage overhead storage can literally provide you with the square footage of your garage floor up above for simple storage.
//
EVERYTHING OFF THE FLOOR
Overhead storage keeps everything off the floor so that you can do whatever you need without the extra obstacles.


// EASY ACCESS
The Gorgeous Garage system makes it easy to access any long-term storage items.

SAFETY LIP
2" lip securely holds all of your storage in its place

CUSTOMIZABLE
Racks can be combined for greater storage capacity
MOTORIZED OPTION
Skip the ladder and load your racks from the ground level

PROFESSIONAL INSTALL
Authorized dealers ensure a proper installation
// THE SMARTEST MOTORIZED SYSTEM
Make your life easier with our new garage storage lifts in Orange County. Our four Bluetooth motors integrate seamlessly with any smart device and will raise or lower your items on command.
Easily access all of your items from the ground level. The 2 inch safety lip and automatic smart adjusting ensures a safe storage experience. The industrial grade steel and powder coatings guarantee our durable, long-lasting product. Contact us today to schedule an installation.
• Manufactured in the U.S.A.
• Controlled with your smartphone
• 350lb storage capacity
• Lifetime warranty
GARAGE OVERHEAD STORAGE FEATURES
Custom Design: Garage Storage has provided a convenient way to store all of your items above the floor close to the ceiling so that the wasted space is put to good use. Contact us today for the best overhead storage Long Island has to offer.
Adjustable: The overhead racks are fully adjustable and easy to get to.
Long-Term Storage Items: Garage Storage overhead storage in Long Island has been used in several homes, commercial building, and offices to help place items out of the way but that are easily accessible.
FREE ESTIMATE
GARAGE OVERHEAD STORAGE HIGHLIGHTS
Steel Construction: The overhead racks are made with a steel frame to ensure the safety of the unit.


Affordable:
Many storage solutions are pricey and hard to access, save your money by using overhead storage.
Adjustable:
It's one thing to have a nice garage storage system for what you have. It's another thing to have one that will change for with your situation. Adjustable hooks and shelving allow for new storage solutions, for whatever the situation.
Quick Installation:
Overhead storage units are fastened to the trusses to provide a strong and lasting structure.
Give us a call today! We've taken overhead storage in Long Island to the next level.
// AS SEEN ON
If you're ready to transform your garage into your dream organizational space, garage overhead storage in Long Island is a great way to start!

It's more than storage.
It's your life.™
OVERHEAD SOLUTIONS
Bluetooth motors can raise and lower the platform using your smartphone
.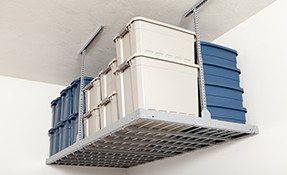 Wall mounted racks can hold up to 1,000 pounds per rack.
Each 8' rack can be combined with more racks to form even larger platforms.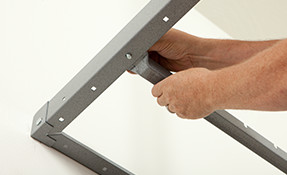 Made from industrial grade steel, these racks can handle anything.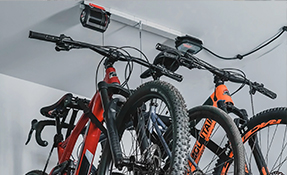 Get your bikes and other accessories off the floor with Bluetooth motors.
Overhead racks come in Granite Gray and Desert Stone to match your Monkey Bars Shelving System.