// SHELVING AND RACKS
Get a one of a kind garage with top of the line products.
// WE'VE GOT OPTIONS
Custom designs to fit any garage and any hobby.

// ROOM TO SPARE
Get garage clutter off the ground and out of the way.
CONSULTATION
IT'S TIME TO GET ORGANIZED.
CONSULTATION
IT'S TIME TO GET ORGANIZED.
VERSATILE GARAGE SHELVING IN
LONG ISLAND
Most people realize the value of garage shelving but don't have a way to accomplish what they want to get done. With Gorgeous Garage storage systems you'll have lots of options for garage shelving in Long Island. You'll get the most out of your space when you take advantage of our shelving and accessories. We have the garage shelves that Long Island homeowners need and love!
//

Adjustable
The great thing about our systems is they are completely and totally adjustable. When you need to store more or less items, simply add or slide around bars and accessories to meet your changing storage needs.
//

Overhead Shelving
Store your things up higher with our garage shelving system. You'll be able to store up to 1,000 lbs of material up off the floor, creating more space down below for other things. You will need a ladder to access the overhead shelving. We also have motorized options that you can raise and lower with a simple app.
//

Lifetime Warranty
We offer a lifetime warranty because we are sure that you will love our products. With Gorgeous Garage lifetime warranty, you can rest assured that you're in the best hands possible. Get your shelving taken care of now and get your garage in shape!
STRONG
Holds 1000lbs every four feet of shelving
TWO COLOR OPTIONS

Designed to match any home and style
OFF THE FLOOR

Get everything off of your floor for easy cleaning
COLOR COORDINATED

Designer Series finishes match your garage cabinets.
Custom Shelving and Accessories
The Monkey Bars garage shelving systems offer a large variety of systems and accessories to suit a wide range of interests. Discover thousands of storage options with our systems that you never would have thought of before.
Bars and Hooks: Our patented Monkey Bars are strong and adjustable to meet your changing storage needs. Select from 11 different patented, rubber-coated hooks to hang all your items from bikes to wheelbarrows or anything you need easy access to.
Layered Storage: Our systems are proven to store all your items in 1/3 of the space of other systems. With our patented bar and hook system you can create multiple layers of storage items all under our one single shelf. Now that is efficient!
Bags and Racks: We also offer a variety of other storage accessories such as sports bags, bucket racks and saddle racks to store all your individual storage items.
FREE ESTIMATE
Get Organized With the Right Products
We are here to help you get organized and stay organized. With the right selection of shelving, cabinets, overhead racks and flooring, we can help you create the perfect solution to all your garage storage in Long Island problems. We'll design a custom system to meet your specific storage needs.
Are you tired of boxes, bags and other clutter taking over your garage? Need to store your yard equipment and sports gear in a more efficient way?
We specialize in all of the above and more. Contact your local Gorgeous Garage representative today for the best garage shelving Long Island has to offer.
The Benefits of a Monkey Bars Storage System
Increased square footage: The average Monkey Bars garage storage system has been shown to increase a homeowner's usable square footage by 50 percent!
Drop-Down Shelves: To maximize on limited space, we offer drop-down shelves mounted below our strong shelf to create more opportunities for storage space.
// AS SEEN ON
If you're ready to transform your garage into the ultimate efficient organization, garage shelving in Long Island is a great way to start!

It's more than storage.
It's your life.™
IT ALL STARTS WITH THE SHELF
// 24" D-10 GARAGE SHELVING
24" deep shelf, 10 adjustable bar positions.
// 16" D-6 GARAGE SHELVING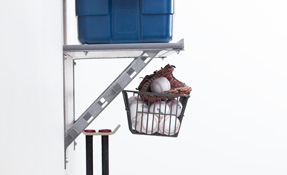 16" deep shelf, 6 adjustable bar positions.
// 24" D-6 GARAGE SHELVING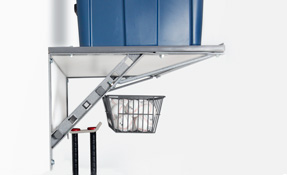 24" deep shelf, 6 adjustable bar positions.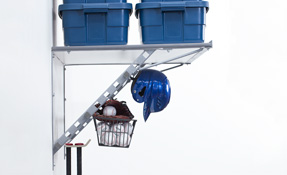 32" deep shelf, 10 adjustable bar positions.
Great for over windows and doors.
Great for over garage doors.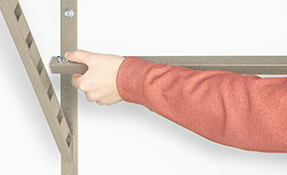 Easily and securely snaps in and out of the brackets. Available in 35" and 51" lengths.
Hooks snap on and off bars and hang almost anything off the ground.
Eight hook types to neatly store the items in your garage.
//
ADJUSTABLE WALL SHELVES
Shelves 13" deep and 36" or 44" long. Can mount directly to a wall or suspend from a Monkey Bar.
Sturdy when you need it, out of the way when you don't.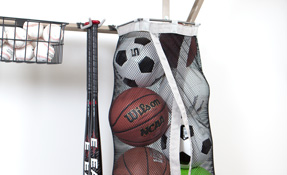 Easy organization for sports fans in your family.
Great for helmets, sports gear, exercise equipment and more.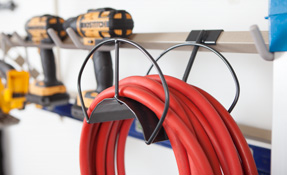 Perfect for holding garden hoses, air hoses, and extension cords.
Stores golf balls, baseballs, hand tools and more.