// GARAGE MAKEOVERS IN LONG ISLAND
Customize & coordinate like any other room in your home.
CONSULTATION
IT'S TIME TO GET ORGANIZED.
CONSULTATION
IT'S TIME TO GET ORGANIZED.
GARAGE MAKEOVERS IN LONG ISLAND LIKE NO OTHER
Another exciting overall feature of our storage products is that they all coordinate very well with one another. Get your amazing new garage makeover in Long Island today. If you're tired of replacing your garage storage, call us today and learn about our lifetime warranty.
//
MONKEY BARS & OVERHEAD RACKS
Our Monkey Bars are available in two powder coated finishes Granite Gray, and Desert Stone. Our Overhead Ceiling Racks are also available in these same powder coated finishes.

//

HOOKS, HANDLES & ACCESSORIES
Our hooks and accessories both for the Monkey Bars and for Slatwall, also match in our Graphite Pearl Finish, as well as our cabinet handles that are also available in the same coordinating finish.

//

CUSTOM CABINETRY
Our custom cabinetry is available in a wide variety of finishes and combination finishes, Our Gorgeous Garage's system in the Designer Series can be customized to match the cabinetry finish like no other product on the market today.

//

FLOOR COATINGS
We also have a wide variety of floor coatings that you can choose from with multiple different colors designed to coordinate well with the other products in your garage.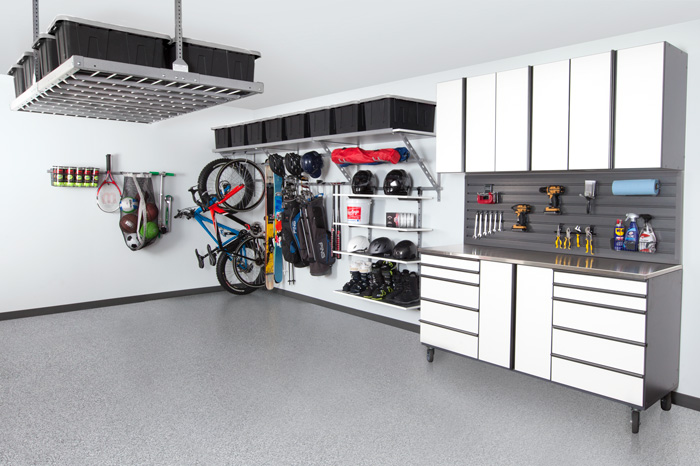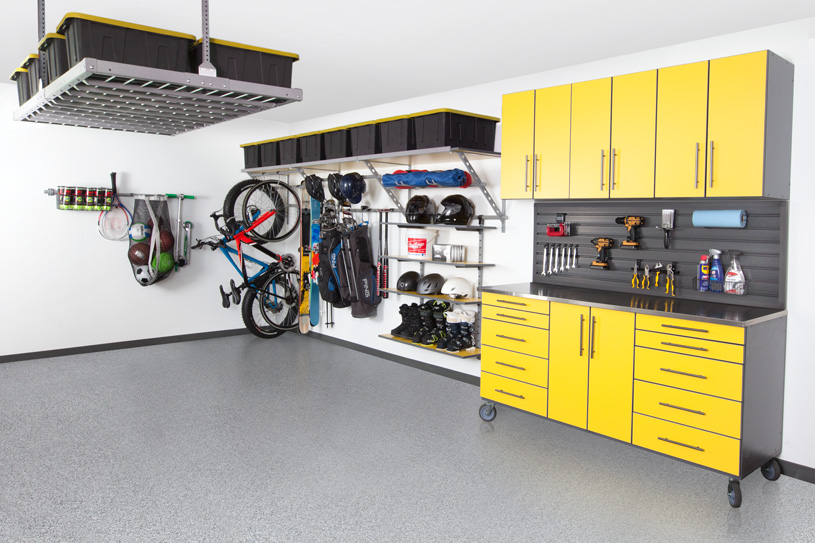 WHY IS THIS IMPORTANT TO YOU?
In our many years of experience, we know that the best and the highest functioning garage projects are often the ones that feature a variety of different products to satisfy any clients' storage needs.
Why have a bunch of random mismatching garage accessories installed when you can have the industry's most functional products on the market with the design and appearance elements that make your garage look as beautiful as any room in your home?
The best part is we make this all available to you at a competitive price point to create your new garage makeover in Long Island.
HOW DO WE DO THIS?
We are the exclusive distributor for Gorgeous Garage systems, the nation's leading manufacturer of garage enhancement products. Gorgeous Garage not only manufacturers the highest quality patented garage storage products in the country, but they take it to a whole other level with their beautiful appearance and design cues.
To check out our other design and color ideas, visit our line card gallery.
FREE ESTIMATE